Unboxing Videos
Unboxing O.Yang Jewelry Packaging
Join Deepking to explore packaging ideas from jewelry brand O.YANG. See the material and style options applied to its jewelry packaging.
Rachel Zeng · Nov 02, 2019
Join Deepking to explore packaging ideas from jewelry brand O.YANG. See the material and style options applied to its jewelry packaging.
Hi! Today's unboxing topic is O.YANG Jewelry Packaging, a jewelry brand from London. Let's see what we have today.

Well, it's a white color mailer box, with the brand name O.YANG in the middle. Material is white Kraft paper. Nowadays, it's really popular for e-commerce brands to use custom logo mailing box for shipping. Now I am gonna to open it and see what's inside. There are two sets items here. In each set, there is a frosted plastic bag, a paper box, a snap button pouch, an information card and a message card from chief designer. The plastic bag is used to protect the gift box from any scratches during shipping. It is made of PE material, with a simple black logo printed on top. The box is a lid and bottom style. Using a medium green color with gold foil logo. The box surface is of soft touching, because it is laminated with velvet film. The advantage of velvet lamination is it feels smoother and gives a more luxury feeling, but it's much more cheaper then velvet paper. Inside the box, I can find a snap button jewelry bag. It's made of double sided velvet, with a gold foil logo printed on it. Inside the pouch, is a bracelet with small hang tag attached to it. Under the pouch is a message card encouraging consumers to post pics on Ins. It's quite cute with a gold foil heart shape on top of it. And there is another information card about how to care for the jewellery. At the bottom of the mailer box, under a blank tissue paper, it's a paper bag. Same color and material as the paper box, also with a gold foil logo. The special thing is, there is only one handle attached, which makes the bag looks more outstanding and special.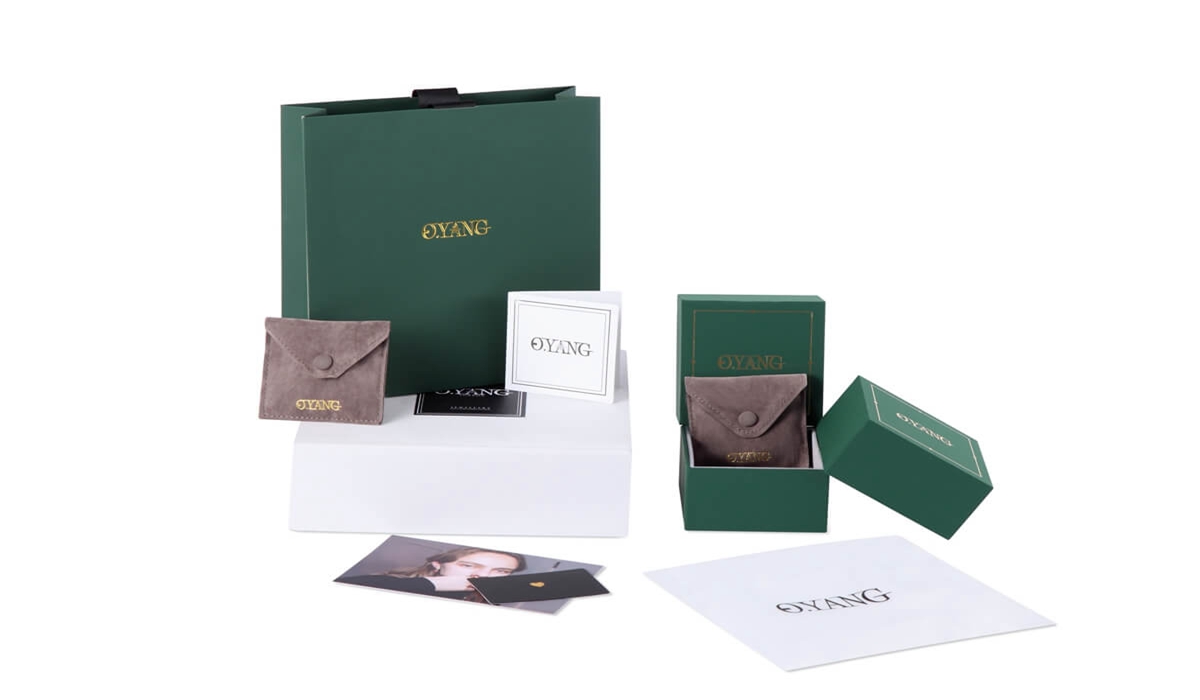 Do you want to adapt some ideas into your brand's packaging? But which items is more suitable for your business? Our budget time may help you.

First of all, is mailing box. A same design as O.YANG's shipping box will not cost that much because the printing is simple, only one color logo on top. Approximate price range is $0.5-1.

Second is frosted plastic bag. I don't think it's necessary for all brands because it doesn't add any value to the brand's packaging. Besides,it is just one time used packaging item and consumers will probably throw it away soon. Starting from a moq 10000pcs, such a small size plastic bag will cost about $0.05.

Third is jewelry box. Starting from MOQ 500pcs. O.YANG's paper box is around $1.2-2. It's a little more expensive then normal lid and bottom box because it has added a velvet display tray at the bottom. Whereas box without this tray will cost only $0.8-1.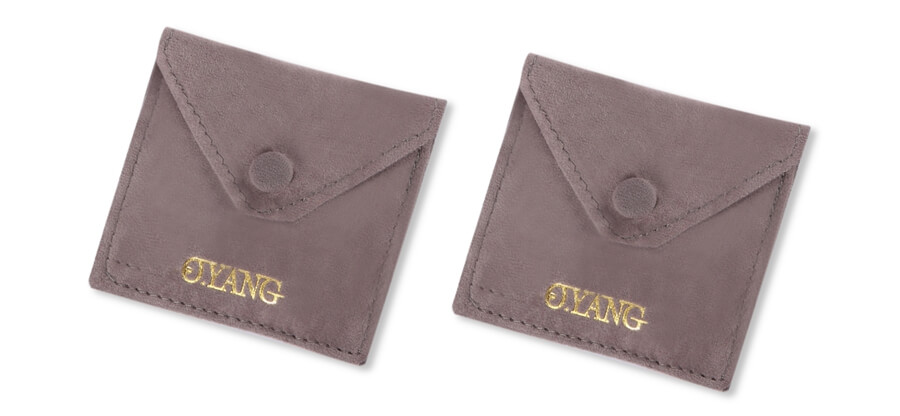 Then we talk about snap button jewelry bag. O.Yang's velvet pouch is made of double sided velvet fabric, but it's even thinner then normal single face velvet material. Approximate price is about $0.7 for 500pcs and $0.4 for 5000pcs.

Last item is paper bag. 250gsm thickness with gold foil logo and velvet lamination, MOQ 1000pcs is about $0.6 and 5000pcs about $0.35.

Now you know what you can do within your budget. Any question, leave comment to info@deepkinglabels.com.