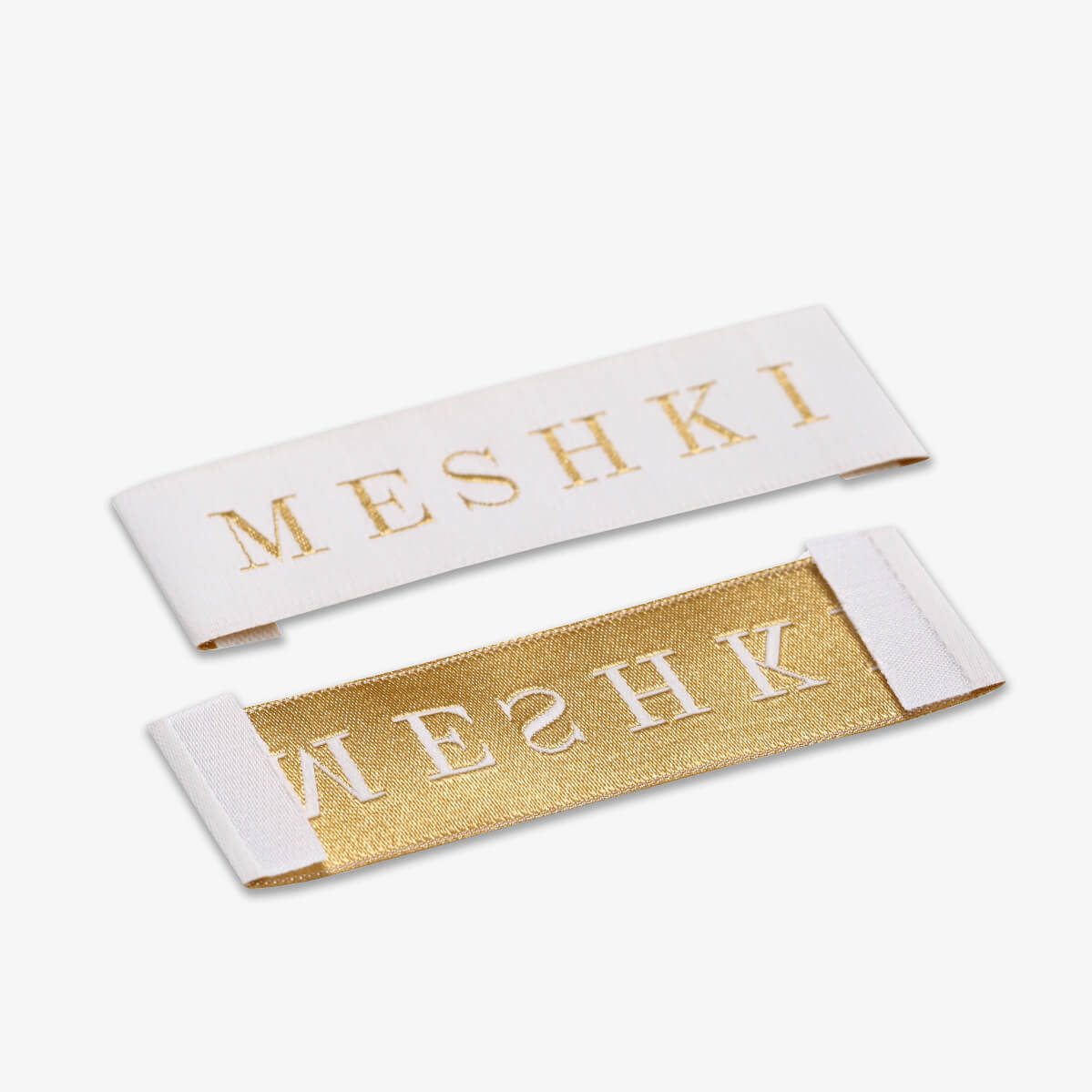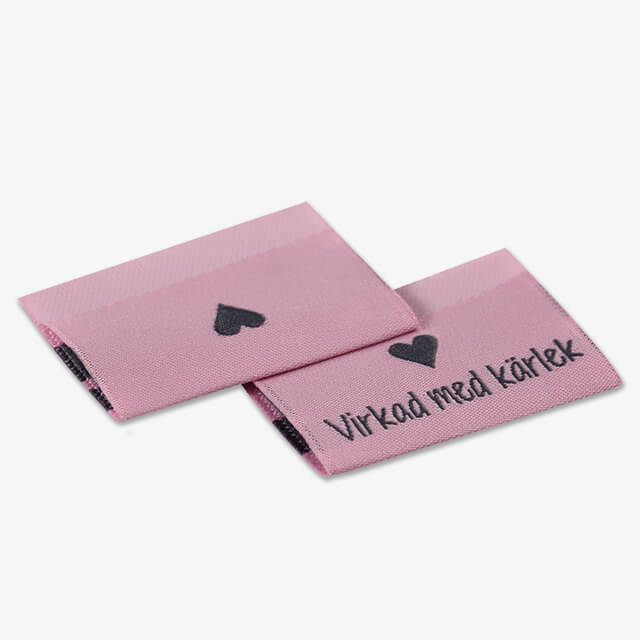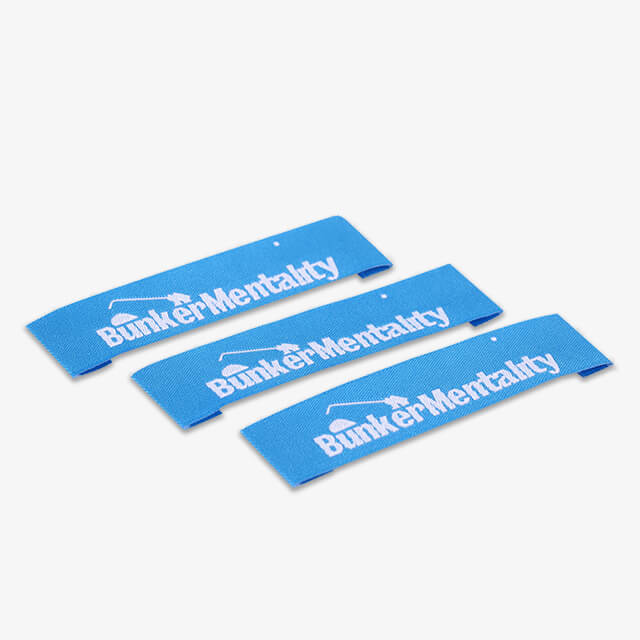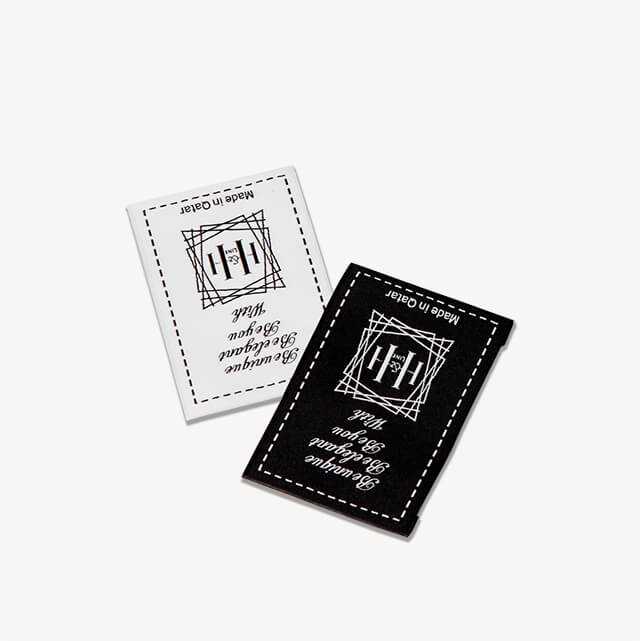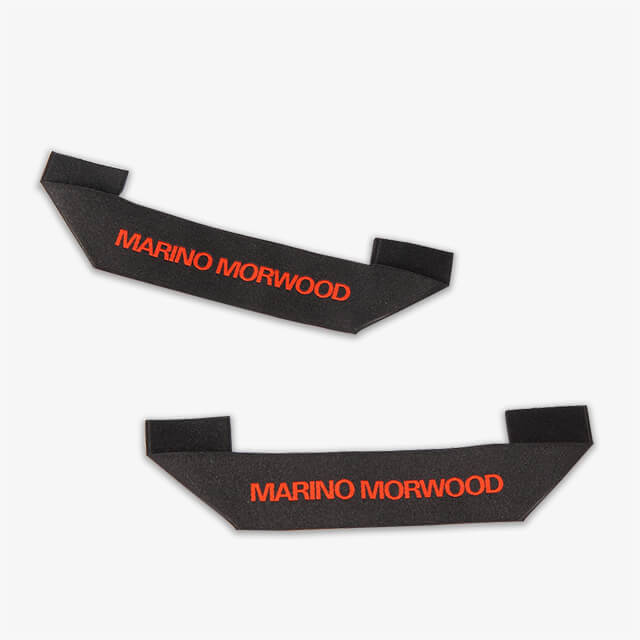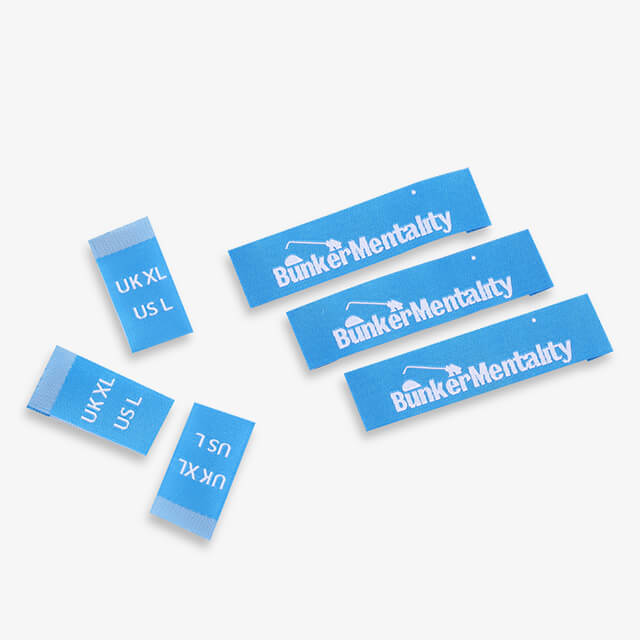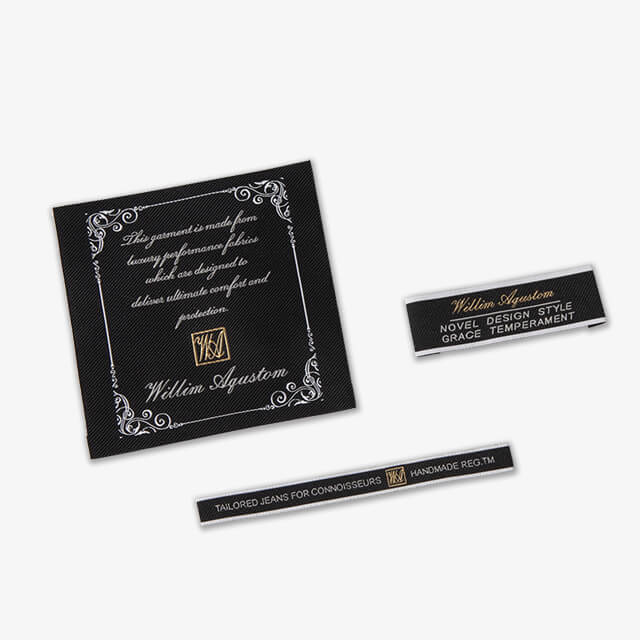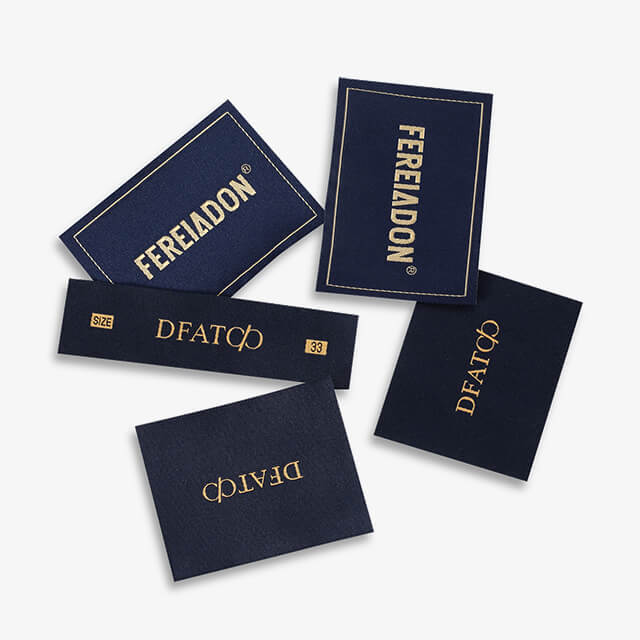 Custom Clothing Labels
The advantages of having personalized clothing labels are many! Brand recognition is a big one.
Personalized and custom clothing labels give a uniqueness to your brand and helps it stand out from the rest. There are literally hundreds, if not thousands, of possibilities and designs for you to create your very own fabric labels.
see more designs
How would you like to order?

Check pricing of standard size

Get quote with ready logo or atrwork
Use below smart design system to get an easy preview. Follow each step to choose suitable size, quantity, etc. Then unit price and approximate shipping date will show.
Printing color more than 3 colors, pls choose "Get quote with ready logo or artwork"

Can not find suitable options in our smart design system? Don't worry, upload your artwork here and write down your request, our team will be involved to fill in the unit price. After that, you can find the quotation in your cart and place the order.
Nothing adds a more attractive finishing touch to clothing and handmade items than custom woven labels. Deepking offers a wide range of high-quality, fully-embroidered fabric labels that are available at very low minimums. For larger orders, you can get custom sewing labels for as little as 4 cents. Either way, these beautiful clothing labels are all that you need to add a traditional flourish to personal clothing.
Related Products
Custom Paper Tag
Another choice for garment branding

Coming Soon
Usage
Can be divided into following catogeries.
Brand Label / Main Label
Indicate a brand name or brand logo of the company that sources and sells clothes. Brand labels play a big role to customers as because customers only know the brand and they buy the brand.
Size Label
Shows a specific set of measurements of the human body. Usually follow main labels material and color.
Clothing Care Labels
Usually attached at side seam, containing information including fiber contents, country of origin, and washing, drying and ironing guidlines.
Stick On Clothing Labels
Adhere to clothing tags without ironing, can be simply peel off. But not strong enough to stay on through endless washing and drying cycles.
Iron On Clothing Labels
A permanent transfer option that embeds into the weave of the fabric thanks to the heat applied by your iron. The label essentially becomes a part of the garment.
Woven Labels
Produced by different machines, woven labels can be divided into two big catogory, computerized woven labels and selvage woven labels.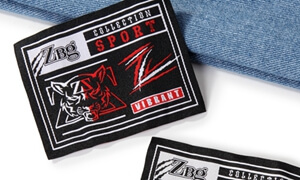 Damask Woven Labels
One of computerized woven labels. 50 denier high density woven labels have the highest density weave available, displays great details and are very soft and luxurious.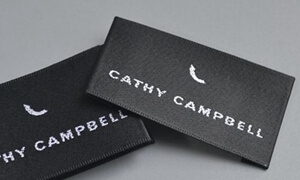 Satin Woven Labels
One of selvage woven label. It has a luxurious sheen (similar to silk's surface) and selvage edge. Small weaving holes can be found on logo.
Printed Clothing Labels
Based on difference fabric, printed clothing labels can be divided into three main catogories.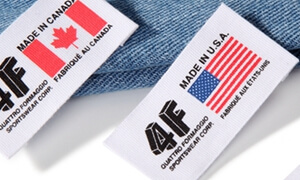 Cotton Clothing Labels
Soft and durable which makes it perfect for any type of branding needs. A series of diagonal and parallel ribs cotton textile options and the naturally frayed edges help to creat a natural look.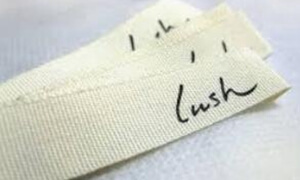 Canvas Printed Labels
Similar to cotton fabric labels but is thicker and is excellent for a rugged look. Specially suitable for denim labels.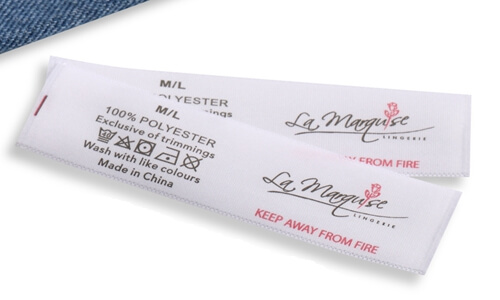 Satin Clothing Labels
Commonly used for care labels as well as main labels. Small details can be printing on the sleek surface. It can be shiny on one side (single face/standard satin) or both sides (double face satin)
Fold Type
Available in the following fold types.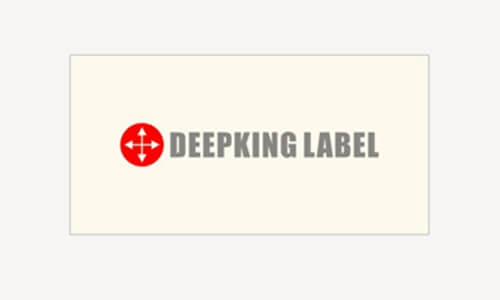 Straight Cut
Min Width 25mm
Max Width 160mm
Min Height 9mm
Max Height 100mm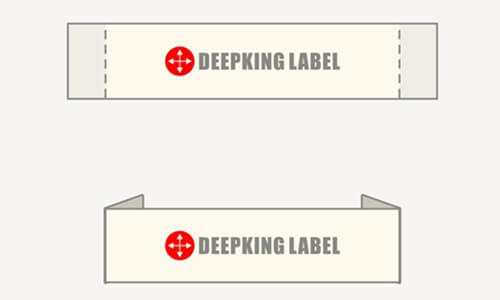 End Fold (left and right)
Min Width 30mm
Max Width 120mm
Min Height 9mm
Max Height 100mm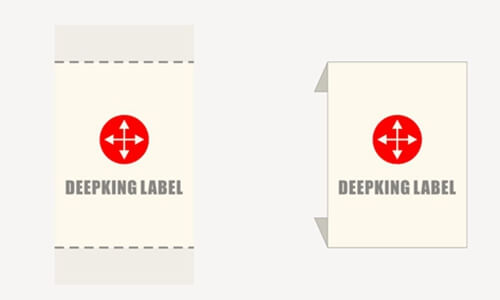 End Fold (top and bottom)
Min Width 9mm
Max Width 100mm
Min Height 30mm
Max Height 120mm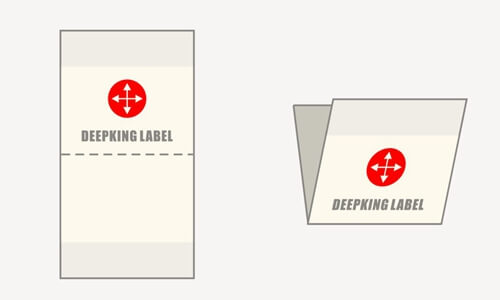 Center Fold
Min Width 9mm
Max Width 100mm
Min Height 30mm
Max Height 160mm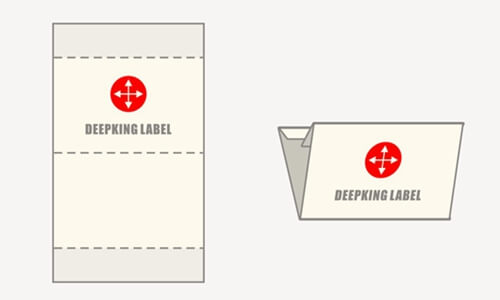 Manhattan Fold
Min Width 9mm
Max Width 100mm
Min Height 30mm
Max Height 120mm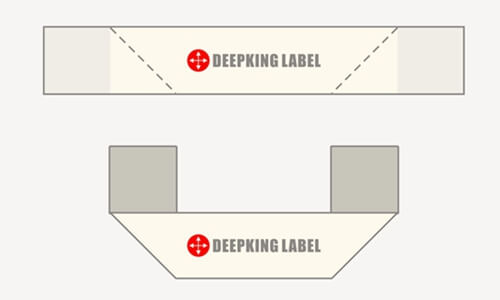 Mitre Fold
Min Width 35mm
Max Width 120mm
Min Height 9mm
Max Height 25mm
FAQ
Check related FAQs about leadtime, shipping and order.
Will Deepking's custom clothing labels fray, bleed or fade?
Except for cotton and canvas printed labels, all our labels can be washed time and again with hot water—without a fear of fraying, bleeding or fading. Both our woven Labels and our care Labels have securely welded edges that are resistant to fraying. Woven labels don't bleed or fade, the yarn is professionally dyed and extremely color-fast. The printing technique used for our care labels prevents bleeding and fading.

Printed labels made of cotton and canvas fabric will fray on edge. To avoid this, we recommend to customers to choose END FOLD style so the fraying yarns will not be seen.
What is "PURE COLOR" option for woven labels??
This option will add an extra thread to the label background color to strengthen the color and prevent "bleed through" of the text color.
What is the Minimum Order Quantity(MOQ) for custom fabric labels?
The minimum order quantity (MOQ) is 100. Products of special design may requires higher MOQ. Please contact our sales team for detail information.
Does Deepking offer free sewing labels sample if I want to see the quality?
We offer free stock sample with previous order logo(not custom logo), but $25 will be charged for shipping fee.
How long it will take to make clothes labels sample and how much does it cost?
Sampling lead time is about one week with a standard sampling charge of 20usd per design. International shipping 25usd will be charged if customer need to receive physical sample.
How many samples does Deepking offer in garment labels sampling?
We provide only 3pcs samples in a sample order. But this does not mean one label cost several dollars. $20 is for tooling including set up etc.
What is standard production time and delivery time for personalized sewing labels order?
For quantity below 20,000pcs, it takes about 10 working days for production, 2-3 days for shipping. For quantity between 20,000-50,000pcs, it takes about 15 working days for production, 2-3 days for shipping.
Does Deepking offer a digital proof before production?
Yes, of course. After received your order, our sales team will contact you by email and send a digital proof to get your approval before production.
Does Deepking accept custom size garment label that are not listed on the site?
Yes. You can send inquiry to us by clicking "get quote with ready logo or artwork" button below, or send an email to info@deepkinglabels.com for help.
Does Deepking accept custom fabric label orders without artwork?
Yes. We can help you produce an artwork. However, we don't provide logo design service which means customers are required to has a ready logo for any order or inquiry. Pls contact info@deepkinglabels.com for more information.
What standard does Deepking use to match yarns color of custom sew labels?
We offer PMS and HEX code matching. Colors in CMYK or RGB format is required to change to pantone code first for any order.
Does Deepking accept rush order for custom labels for clothing?
Yes. Rush order will lead to additional 20% order value. Please contact info@deepkinglabels.com for help.
How many colors can I have on my label?
Woven labels can have up to 8 colors. Printed labels can have up to 4 colors.
In which file formats can I submit my artwork?
We prefer cdr, eps, pdf, ai or any vector format. If you have a raster file (eg. a JPG), we recommend a minimum resolution of 300 dpi (300 pixels per inch).