Unboxing Videos
Unboxing Kate Spade Jewelry Packaging
Searching for packaging details of Kate Spade New York? This article contains exactly what you are looking for.
Rachel Zeng · Mar 25, 2020
Packaging and branding are two of the most important aspects that go into marketing, and should be strategized thoughtfully. This week we have Kate Spade New York as our example.

Here are pretty much all the packaging items from Kate Spade. The first one I am gonna to talk about is two paper bags with opposite background logo. The big one is pink with pink logo, inner printed green color, and the small one is green with pink logo, inner printed light blue. Both bags are using yellow polyester handles as decoration. These three colors are used throughout the whole packaging series and leave consumer strong impression.

At the bottom of the bag clearly stated that it is 100% recycled after removing handles. Both the square logo and spade icon are printed with UV a printing method look like putting a transparent tape on top of it. The other surface of the bag remains matte.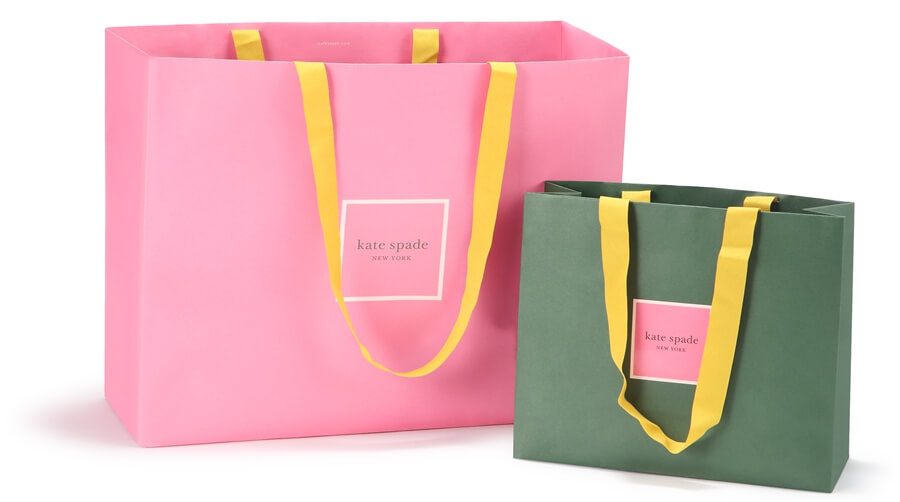 There are few styles in Kate Spade's packaging boxes. Today we will talk about all the styles including foldable box, tube box and lid and bottom box. Generally, the box design is more fancy than paper bag with this gold line all around the edge. I guess this is because it wants to deliver a luxury feeling in all the gift occasions.

Now I am trying to fold a box and you will see how easy it is. The flapping on left and right sides are pre-glued, we just need to peel off the stickers on the four corners and press it like this, then fold the other two sides and it's done. Pretty easy but the box is very strong. And these are rigid boxes in tube shape and lid and bottom shape. Very simple, but also look great.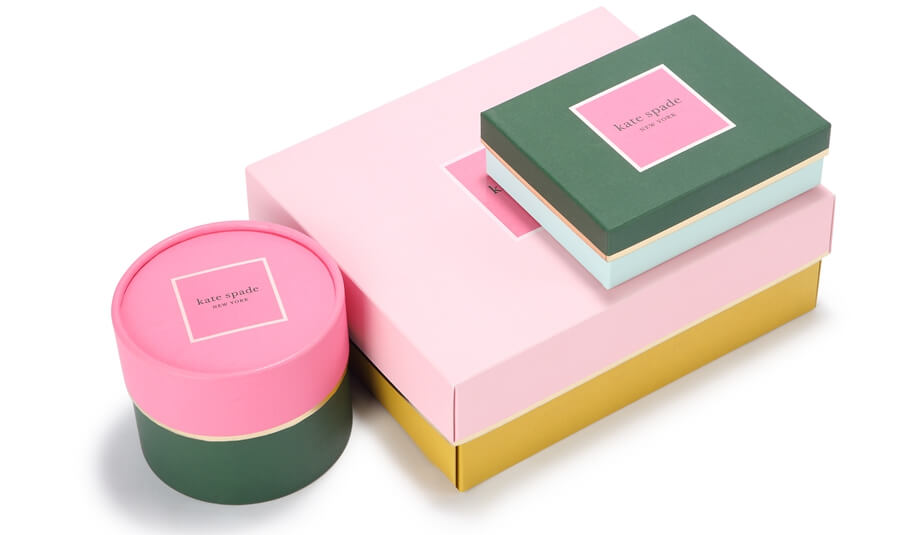 In gift packaging, tissue paper and sticker is a couple of must element. All items will be wrapped carefully with this green color tissue paper, printed of spades logo. And finally put on this pink sticker on it. Very beautiful.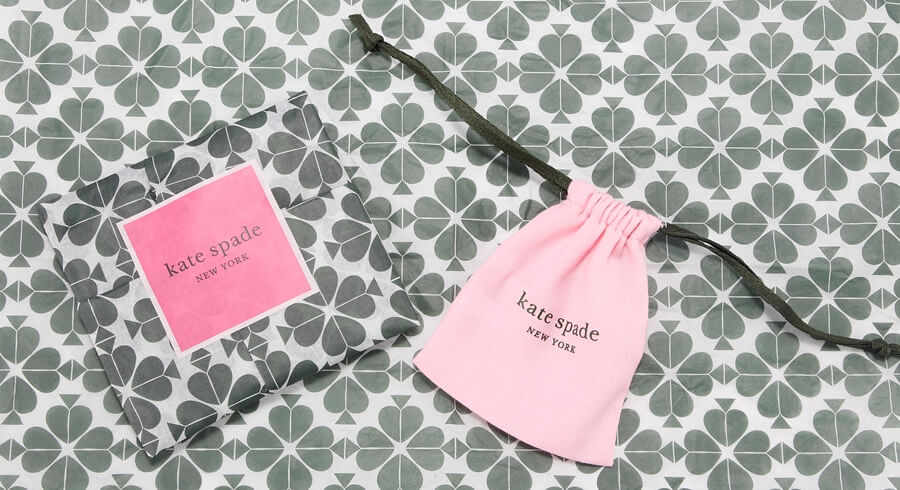 Here comes to the last item of today's video, cotton jewelry bag. It is pink color and made of soft twill cotton fabric. Different from most fabric pouches printed of silk screen logo, Kate Spade's drawstring pouch logo is printed of heat transfer (heat transfer logo) technics. That's why the logo looks more solid and outstanding.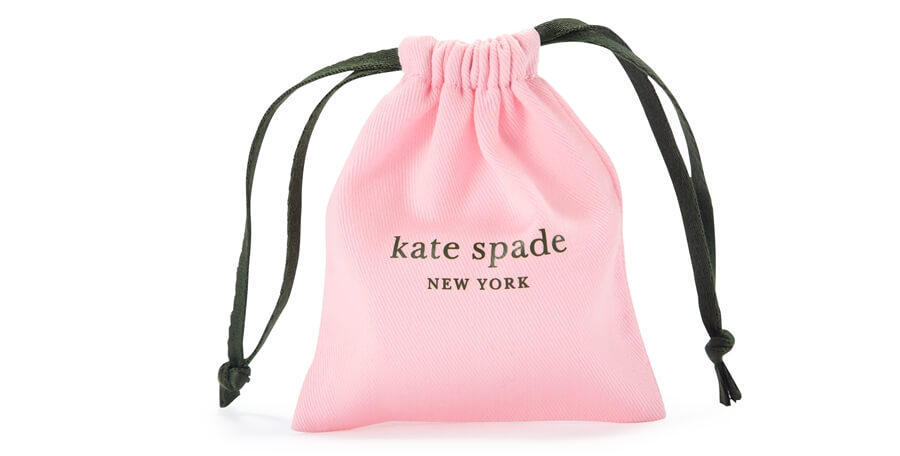 Now our budget time is going to help you to decide which item is suitable for your packaging budget.

First is paper bags. Kate Spade's paper bag is made of 250gsm recycled paper. Starting from MOQ 500pcs. The big size 16*12.5*6 inches is around $2 for 500pcs and $1 for 3000pcs. The smaller size 10*8.5*4 inches is around $1.3 for 500pcs and $0.6 for 3000pcs.

Then it is packaging boxes. The MOQ and cost is very different for all the three styles. Foldable box in 10.2*8*3.2 inches MOQ 500pcs is about $1.5 and price goes down to $1 for 3000pcs. Tube box in 4 inches height, 4.5 inches diameter, price starts from $2.3 for 1000pcs MOQ and is about $1.2 for 3000pcs. Lid and bottom box is about same price as tube box. Here we need to pay attention that the gold line adds some cost because defect product percentage in production will be higher then boxes without this gold line around the edge.

A custom tissue paper 15*23inches in one color printing is about $200 for 1000pcs and price goes down a lot to $0.08 for 3000pcs. Custom printed sticker in 2.5*2.5 inches with two color printing and matte lamination, minimum charge is about $120 for 1000pcs and price at around $0.06 for 3000pcs.

Last item is cotton jewelry pouches. Size in 3.8*4.5inches, with heat transfer logo, starting from MOQ 100pcs at around $2.5. If the quantity goes up to 3000pcs, it will be around $0.6.

That's all for today's unboxing video. If any question, leave comment at info@deepkinglabels.com.