Unboxing Videos
Unboxing LOUIS VUITTON Watch Packaging
Want to know how the world's top luxury brand - Louis Vuitton packs its watches? This video is designed for you.
Rachel Zeng · Jan 16, 2020
Want to know how the world's top luxury brand - Louis Vuitton packs its watches? This video is designed for you.
Hi! Today's unboxing topic is LOUIS VUITTON Watch Packaging.Let's get started.

Here is a whole set of packaging for its TAMBOUR HORIZON MONOGRAM watch.

The paper bag is made of 210gsm, but feel very thick because the wood fiber is of high density. Though we can not find FSC certificate logo printed on the bag, I must tell you that this paper is actually FSC certified(FSC certified paper). The complementary blue color raw cotton rope is actually a great progress in LV's packaging because cotton is considered more environmental. The logo is embossed (embossed logo)and outstanding.

Let's have a look at the box. In order to protect the box, a paper cover has been added. At the back of the cover is a sticker with retailer's information. The sticker is of very good quality. When we peel it off, it won't leave any glue on the paper. Now I open the box, wow, it looks more like a delicate drawer case. There is a flapping design that enables me to take out the inside boxes easily. The cases is divided into three sections. One is a card slot for instructions and accessories. Second is a vacuum area for a leather box. Last is two paper drawers with charging accessories and watch strap. The space is well designed and neat. The watch box is covered with genuine leather with a snap button closure, logo embossed in the center top, inside is wrapped with suede microfiber.

Inside the two drawer boxes are three cotton drawstring pouches. Twill cotton fabric with a blue cotton string of herringbone pattern, and with its logo silk screen printed in navy color. The end of cotton string has been sewn to avoid cotton yarns spreading easily.

Finally, let's explore the card slot. There are two items lying there. First is three booklets packed in a paper cover. One instruction, one introduction and one safety and legal information, each one written in diversified languages. Second is a small envelope containing a well folded microfiber cleaning cloth with embossed logo, for cleaning usage.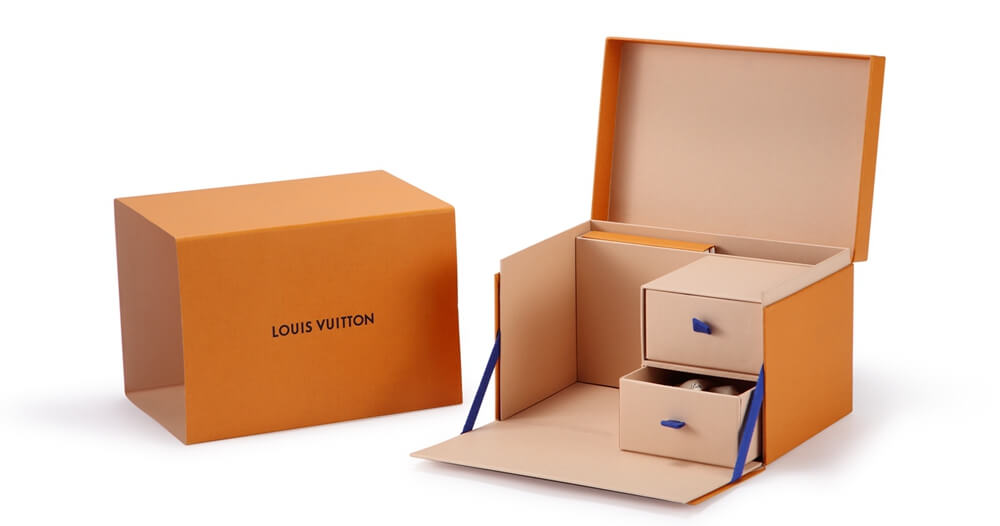 Now you may think about to adapt some ideas into your brand's packaging. But what is the best way to do within the limited budget? Our budget time section may help you.

First of all, let's talk about paper bag. LV's paper bag is using 210gsm FSC paper with cotton tape. Like other paper item, moq starts from 500pcs. You can find similar material in an approximate price range of $0.5 - $1.

Secondly, is box case. I must state that not all the brands should have a necessary budget for such an packaging item. It relates to a lot of manual works in production so price can be very high, specially when the quantity is small. But anyway, if you really want to know the cost behind the scene, our estimation is about $5-$6 for 500pcs.

Now let's talk about drawstring pouch. I have been persuading people to use fabric pouches in their packaging on many occasions because it is cost-friendly, environmental-friendly and MOQ friendly. Unlike some packaging items, take the Louis Vuitton box case for example, you can only admire in your heard but do nothing to your branding, because your budget does not allow. However, even beginner can make an order from 100pcs cotton pouches with a budget of $200. For larger quantity, price will go down a lot, approximately between $0.3-$0.5 for a small size pouch.

Finally, let's have a look at the microfiber cleaning cloth. Its moq is 500pcs, price ranges from $0.2-$0.5, depends on different quantity. If you want to add an envelope to pack it like LV does, it will add about $0.05 budget for a quantity over 10000pcs.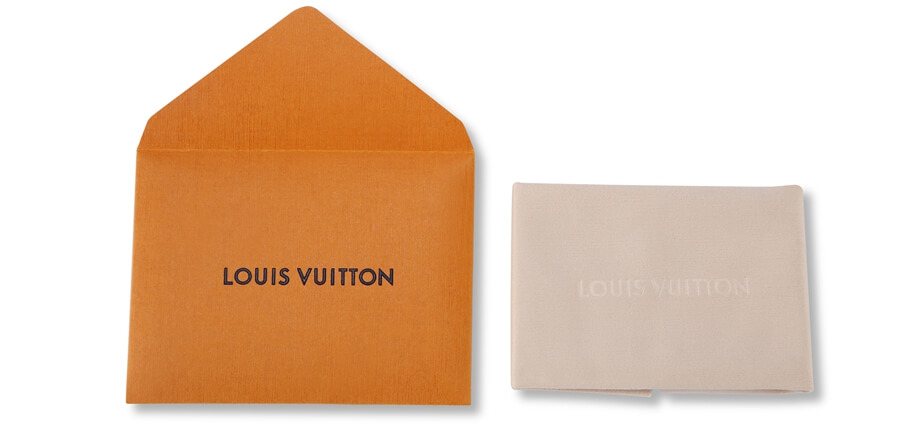 I hope today's unboxing video allows you think more about how Louis Vuitton practise environmental protection and what your brand can do on this topic. Such as using FSC certified paper or raw cotton packaging. Any question, leave comment to info@deepkinglabels.com.