Unboxing Videos
Unboxing HEFANG Jewelry Packaging
In this original article, our sales team shares jewelry packaging ideas from HEFANG including jewelry pouches, packaging boxes and paper bags.
Rachel Zeng · Aug 03, 2019
in a bottle in an automatic way."
Hi! Today's unboxing topic is HEFANG Jewelry Packaging. Let's get started.

First let's look at the paper box.The main color is light blue, with its logo and a grey color ribbon bow on it.The best part I like is the ribbon bow design, it is firmly attached to the box cover, which means we don't need to untide it when we open and box and again tide it back when close the box. It's very considerate.Inner box is covered by soft velvet fabric. And inside the box is a set of microfiber pouch. The material is thicker than normal microfiber, so it won't get wrinkle easily. The envelope design is also special because most jewelry pouches are in drawstring style. For small size pouches, there is an adhesive Velcro tape under the flapping. So the ribbon bow on top is just a decoration. For this big size pouch, there is no adhesive Velcro tape but we have to tide the ribbon to close the pouch.Inside the pouch, there are also one divider which will be very useful when we travel with our jewelries. And we can find a tiny cleaning cloth well placed under the pouch in the box. With simple printing of its logo at the bottom part. When there is sweats or fingerprint on the jewelry, it will be become very helpful.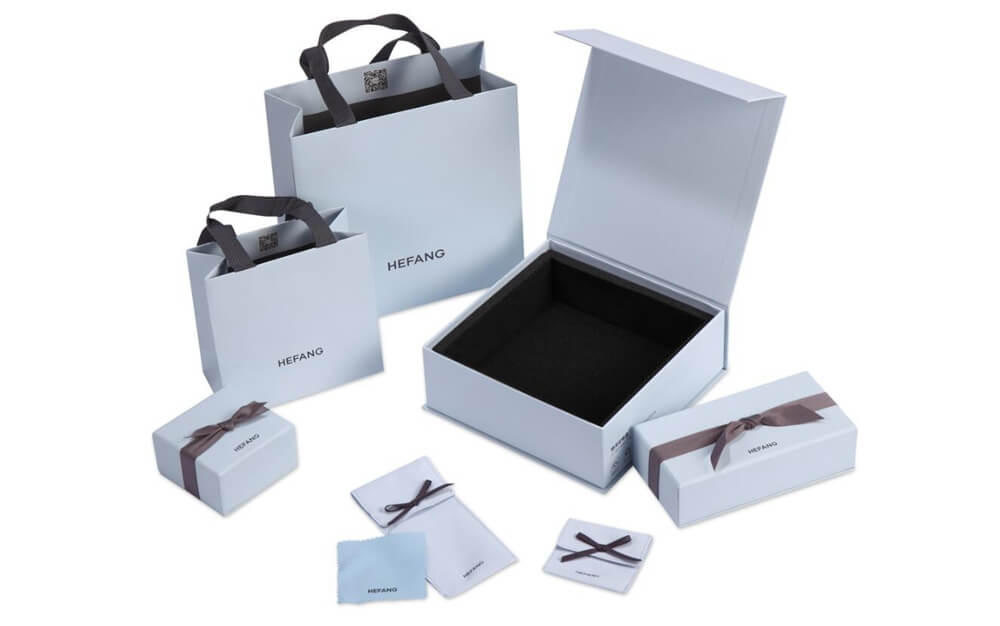 Now you may think about to adapt some ideas into your brand's packaging. But what is the best way to do within the limited budget? Our budget time section may help you.

First of all, let's talk about paper shopping bag. Hefang's paper bag is 300gsm material with matte lamination. You can find some suppliers accept moq as low as 500pcs. Like most of paper items, quantity has a great influence on price.

Secondly, is box, same moq as paper bag. Gift paper box really helps in building a luxury feeling but price is comparatively high. Specially in Hefang's case, the inner velvet cover and ribbon bow outside contribute additional cost to the box itself. Our evaluation is between 1.5-4 dollars per piece. Depends on different quantity.

Thirdly, let's talk about jewelry pouch. Starting from a small MOQ 300pcs, this microfiber pouch is suitable for everybody. With a relatively cheaper price to box and paper bag, a good looking jewelry bag is affordable by most brands, starting from 2usd and getting much cheaper when the quantity reaches to about 3000pcs.

Last one is the cleaning cloth. A custom wipers with printed logo shows how the brand cares for details and quality. But this is not a must for those start ups, and not as necessary as a jewelry pouch.

Now you know what you can do within your budget. Any question, leave comment to info@deepkinglabels.com.